Here at The Jelly Bean Factory® we're all about saying yes. Saying yes to adventures, to the finest foods, to fun, to friends, to family, to the 6am workout, to binge watching your favourite TV series, to adrenaline, to dreaming of travel.
We believe that flavour should turn your world upside down, should create an instantaneous moment, a memory, a daydream…
Say yes, that's life. Say yes, that's flavour.
In 2022 we have refreshed our assortment, including our flavours. With The Jelly Bean Factory®, it is all about flavour. We therefore removed four polarising flavours: Liquorice, Mint, Café Latte and Cinnamon, because you should be able to eat a handful of jelly beans and have a mind-blowing flavour experience. We have added four exciting new flavours: Salted Caramel, Forest Fruits, Peach Bubble Tea and Cherry Blossom Soda.
Yes, that's everything you need to know
Discover 36 flavours of jelly beans here! 
Our gourmet jelly beans contain flavour throughout from the crispy shell to the chewy inside. Experience the power of true flavour in our delicious beans, and in life. We're proud to say they contain natural flavourings, plant-based colours, they're 100% vegetarian AND they're free from the 14 EU major allergens! Find out more about our gourmet jelly beans here. 
The Jelly Bean Factory® was founded in Dublin, Ireland in 1998 by father and son Peter and Richard Cullen, with one guiding principle; to bring the finest of flavours to people around the globe. In 2014, The Jelly Bean Factory® was acquired by Cloetta, and the rest, as they say, is history!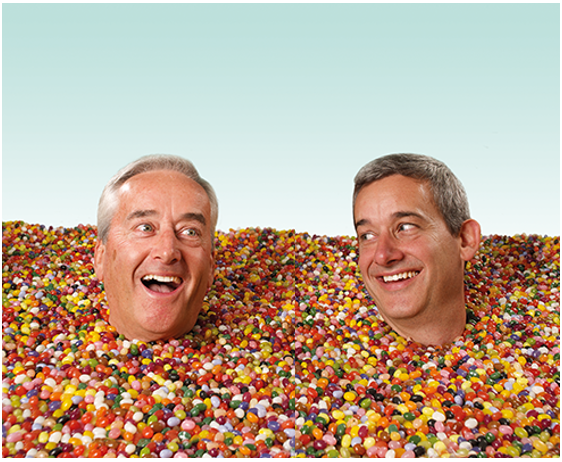 dare to dream
From a family start-up to being part of a leading confectionery multinational, here at The Jelly Bean Factory® we've been championing gourmet jelly beans for over 20 years. Founders Peter and Richard Cullen were first movers to produce natural sweets. We're a brand which dares to be different from regular sugar candy, we're not what you'd expect and we're proud of our multitude of bright colours and our gourmet, fabulous flavours, all of which give you a truly sensational taste experience.
Buy Your Beans Now
Check out where you can buy your beans online.
Nutritional Information
View our ingredients & nutritional information.